*This post was sponsored and paid for Moroccanoil® and all items shown were provided by the brand. All opinions are my own.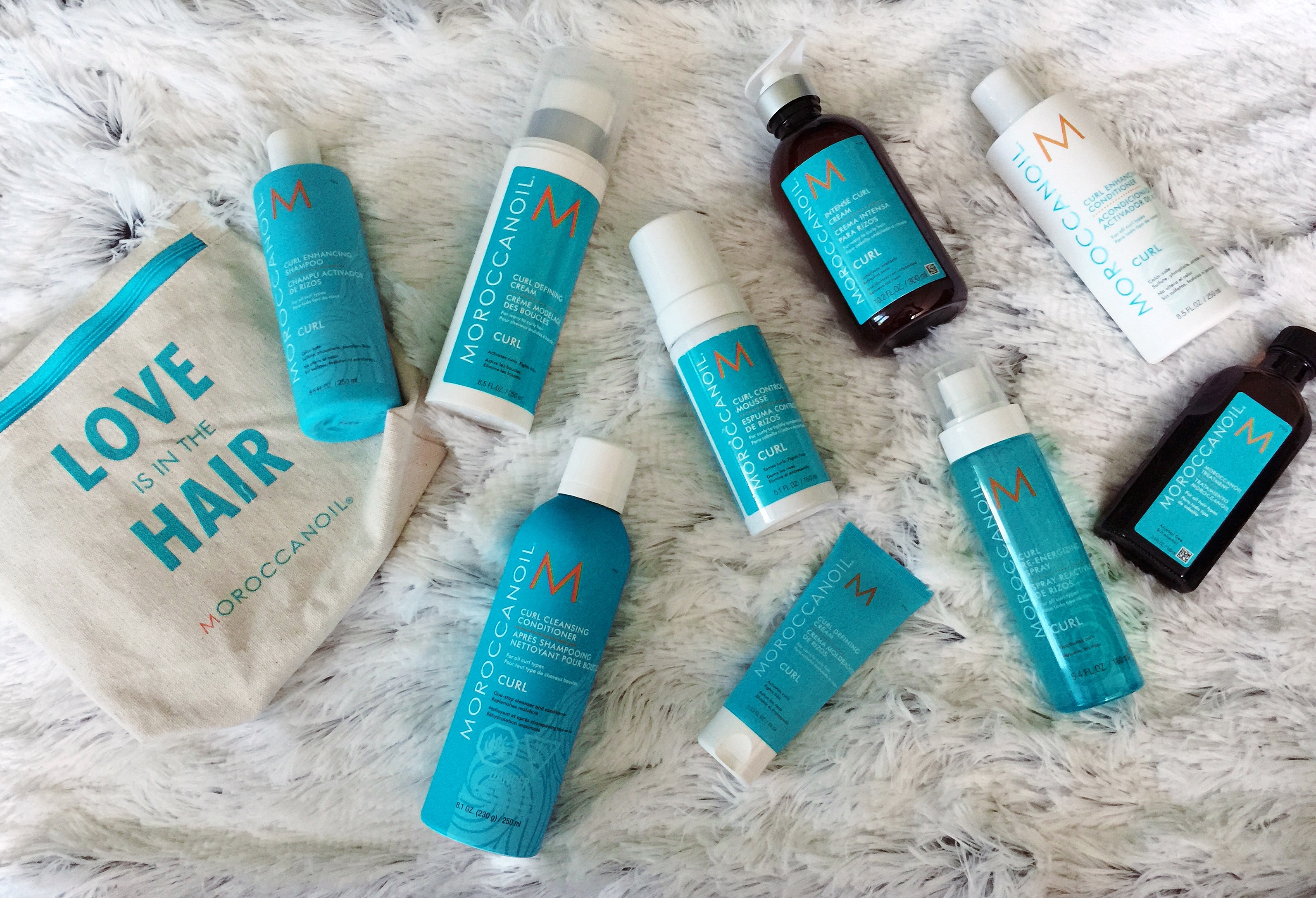 Having been 100% natural (hair wise) since December of 2015, it's a lot easier to pick and choose products based on my texture, since I know what my natural texture is. Whenever I see the word "curl" on a hair product, my heart skips a beat and I immediately am intrigued! That's precisely what happened when I was approached by Moroccanoil® to review some products from their line!
A little background on the brand before I dive in 🙂
If you remember when everyone went crazy over the whole "argan oil" debacle, Moroccanoil was the brand that started the buzz. I'll admit, I didn't even know this myself before being introduced to the brand. Needless to say, all of the products in the Moroccanoil line contain argan oil…so good for all of our hair types! This in mind, the brand also wanted to create a line that was suitable for all hair types to reach a wider audience, since there was really no other brand out there at the time that did this already. Well their formulas for their products are so secretive, they're proprietary!
If you noticed the Love is in the Hair bag up above, these were the 3 products inside! If there were 3 basic items I needed to quickly grab, these would be the ones I would choose! Great thinking, Moroccanoil!
3 items featured in bag:
Moroccanoil Curl Defining Cream

For my hair texture, this works best when my hair is partially wet, so that's when I use mine. It makes my hair super soft and shiny, both a plus since I have really kinky, 4c natural hair!

Moroccanoil Curl Enhancing Shampoo

Though both the shampoo and conditioner are said to be "curl boosting," they're both great for all hair types! They are also color safe and therefore, sulfate and paraben free…perfect to keep my hair purple as long as possible 🙂
This just takes my laziness to an all time high! With this, I don't have to shampoo and condition my hair; they're both combined into one! Now, some other brands with these types of products are awfully drying on the hair. Though this one doesn't dry my hair completely out and it has a conditioner within it, I still recommend following with a moisturizing product upon washing, to maximize moisture.
I'm used to treatments where you sit under a hooded dryer for ~30 minutes and wash it out afterwards. This particular one can be applied to wet or dry hair and helps to smooth and eliminate frizz and also add shine. I'll admit, I'm a bit lazy having natural hair when it comes to caring about frizz, but it really makes a difference the first few days my hair is freshly styled!
By the time my hair approaches a week or longer, my coils get tighter and tighter, and therefore, I have to have something to loosen them up to keep them detangled. This helps with that, while also keeping them soft and shiny…check, CHECK!
You're probably wondering the difference between this and the previous cream I shared. Well, this one is like a mocktail of a gel, mousse and serum built into one! Since I use gel based products on my hair most of the time anyway, this is my favorite between the two. It gives my hair that wet look I love, enhancing my curl pattern 😉
If you wish to literally wake up and go (so me!), this is your baby! It is supposed to add bounce and shape back to your hair, along with moisture. I have no idea why I haven't tried this yet, but I'm putting it high on my priority list to do ASAP!
I haven't tried this on my dry hair, but on my wet hair, fresh out of the shower, it works wonders! It takes quite a bit for my thick hair and it doesn't leave behind that annoying stickiness on my hands afterwards and my coils always pop, with a lightweight hold!
Looking at their site, next on my radar to try is their suncare line! I'm in a city with high humidity and heat (why did I move from humidity to humidity again?).
Anyway, you can out all Moroccanoil products on the website here!